This Valentine's Day weekend is gearing up to be AMAZING!! My latest release, Handle with Care (Six-Alarm Sexy, Novella), is FREE so download your copy today!
Handle with Care
(Six-Alarm Sexy, An In-between Novella 2.5)
#FREE February 13 – 15, 2015!
Description
A firefighter and his submissive wife face potentially life-threatening issues on their journey deeper into the world of BDSM.
Following a long-delayed honeymoon that saved their crumbling marriage, firefighter Dom Jamie Caldwell couldn't be happier with how his wife and submissive is taking to the lifestyle. But when a scene triggers a bad reaction and Erica doesn't use her safeword, Jamie wonders just how solid their bond truly is.
Erica is over the moon with her new relationship with her husband. Just months ago, they'd been on the verge of divorce, but now the future is bright—all thanks to the trust and honesty they've forged through BDSM. Everything they do is new and exciting… until it isn't. And neither one knows how to move forward after Erica's body betrays her.
When a medical condition turns everything they know upside down, can Jamie and Erica find a way to strengthen their fragile connection?
Note: Handle with Care is an in-between novella. Although it can be read as a stand-alone, it's more fun to read in sequence, or at least after having read Under His Command.
Giveaway!!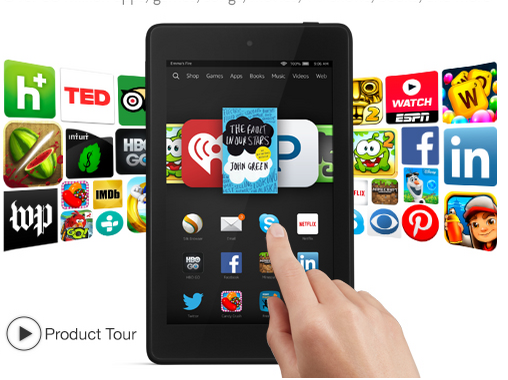 A number of authors to create an amazing giveaway opportunity for you. There are many great prizes and
Marissa Dobson
donated the grand prize, a Kindle Fire. Be sure to visit and like some of the amazing authors who have joined in. Good luck.
Some of the amazing prizes are:
Kindle Fire from Marissa Dobson
Ebook Over the Ivy Wall by Rosa Sophia
Ebook Meet Me in the Garden by Rosa Sophia
Ebook When It's Least Expected by Heather Van Fleet
2 Ebooks of A Valentine's Surprise by Melanie James
2 audio books of A Valentine's Surprise by Melanie James
Ebook Hers to Bear by Tamara Hoffa
Ebook Crazy In Love by Casey Bond
Ebook of Sin, The Complete Collection by Casey Bond
Ebook winners choice from Beverly Ovalle
Ebook Blocked by Jennifer Lane
A signed rack card and winner's choice of any of my ebooks by E.L.R. Jones
Ebook A Mother's Burden by Ellie Keys
Ebook Redefining Me by Ellie Keys
Ebook copy of Revenge by Dana Delamar
$14 Amazon giftcard from Donna Michaels
Ebook Prince of Punk Rock by Jenna Galicki
3 Ebook copies of Bloodlust by Nicole Zoltack
Ebook of Revival by M.K. Gilher
Paperback of CryWolf by Karen Fuller
Paperback of Cover to Cover by Alexandrea Weis
Paperback of Dylan by Kathi S Barton
Paperback copy of To Save a Mate by Krystal Shannon
Lakeshore Evil Series Set by KC Harper
2 Ebook copies of It's love by KC Harper
2 Ebook copies of Sweet something by KC Harper
Ebook Wesson Rebels Book set by Shyla Colt
Signed swag from Chloe Barlow
Ebook Corrupted by Alicia Taylor and Natalie Townsend
Ebook Warped by Alicia Taylor and Natalie Townsend
Ebook Avowed by Alicia Taylor and Natalie Townsend
$25 Amazon or American Express GC from K.E. Saxon
Ebook A Stranger's Kiss by K.E. Saxon
Ebook Highland Vengeance by K.E Saxon
$5 Amazon gift card from Louisa Bacio
Ebook winners choice from Nicole Garcia
3 Ebooks from Lacey Wolfe
2 ebook copies of Deadly Obsession by Kristine Cayne
$5 Amazon gift card from Cynthia St. Aubin
Backlist ebook from Lucy Felthouse
Love is Never Past Tense Trilogy by Janna Yeshanova
Love is Never Past Tense by Janna Yeshanova
To enter: fill out the rafflecopter below!
Good luck!!!
~Kristine