Happy Monday, everyone! It's my great pleasure to host Gary Starta on my blog today. Gary will give us an inside look at his new release, Demon Inhibitions.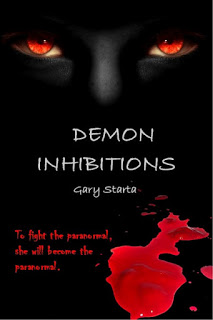 Title: Demon Inhibitions
Author: Gary Starta
Publication Date: June 2012
Genre: cross-genre (see Gary's great explanation below)
Available from: Amazon
Price: $4.99
(See Giveaway below for a chance to win this great book!)
Take it Away Gary!
I tend to write mix genre, or, what I dub fiction on the fringe of genre.
My new release, Demon Inhibitions, threads sci fi, urban fantasy, suspense, romance, horror and mystery.
I usually anchor my novels in science fiction but find it fascinating and almost impossible not to blend these other genres into the mix. You could compare it to a meal. While there's nothing wrong with eating a piece of fish by itself day after day you might find it more tasty to add broccoli (horror), rice (mystery), salad (romance), bread(fantasy) and dessert (suspense).
To be more precise, Demon Inhibitions consists of:
Sci fi: Agent Caitlin Diggs believes a genetically made soul stealer is responsible for recent murders.
Horror: The soul stealer has escaped custody and crosses a parallel universe dragging Diggs with him via wormhole.
Urban Fantasy: Diggs is assisted by a Wiccan investigator and a succubus. In her parallel universe, demons outnumber humans and a preternatural branch of the FBI deals with their crimes.
Romance: Diggs enters an altered reality and a love triangle emerges. Her new boss Charles Grant is beyond handsome but the other version of her friend Stanford Carter is stirring feelings she never had for his alternate.
Hitches: Grant doesn't know 'his' Diggs has been killed by the soul stealer.
Alternate Carter has been turned into a demon. Would romance with Carter change her as well?
Mystery: Why is the soul stealer hell bent on eradicating a teen whose singing voice inhibits demon violence?
Suspense: Diggs faces the prospect that conventional weapons will not subdue her fugitive. Can her newly acquired paranormal abilities give her a fighting chance?
I'm sure we've all read great stories that brought some or all of these elements together. They usually get boxed under one category for sales purposes. Maybe someday a multiple-genre tag will be born. After all, paranormal romance is still a fairly young genre and is ever growing.
Change does happen.
Please read on for an excerpt
Demon Inhibitions came out in June.
Demon Inhibitions Excerpt
When she found I had visited Manners, Briana began scurrying about her house, scooping up a pair of scissors and a red candle. Before I could speak further, she came at me. I backed away from her in fright. Her placid face revealed nothing malevolent. But the shears were headed right for me. I tried to dive away from the contradiction. Who was the real Briana? The sweet woman who made cookies for me–or her shears wielding maniac counterpart now standing before me? She screamed not to worry. I heard a snip. I felt a strange sensation. Not pain. But something was no longer attached to me. It was a piece of my hair. She caught the floating lock in her hands as if it were a runaway feather.
"It is very important we get to work, Caitlin." Too stunned to process the weird moment, I could barely utter a groan.
Then she explained how she must protect me. "He'll surely make a visitation now that he has met you."
I tried to explain it was a good thing. I would probably get a vision of him and then I could determine his part in the slayings.
She interrupted. "A visitation is what he'll do to you. I don't know how to break this to you but the cat judge is an incubus. He'll surely come to you in your dreams. And in case he is our murderer, you'll need a protection spell, pronto."
I reminded her I carried a firearm. I had worked in the FBI.
"No earthbound weapons can harm the judge once he joins with you. An incubus enters your dream world."
"How do you know this?" My tone grew edgy. She had obviously withheld knowledge of Manners. Maybe the two were friends or even lovers. And she just admitted an incubus could have committed these crimes without fear of being harmed or caught.
"I know things because I'm a witch, Caitlin. That explanation will have to suffice for now."
"If you're truly a witch, Briana, you must know he's our best suspect."