Hello, everyone! Welcome to the release of DEADLY BETRAYAL, the third book in my Deadly Vices romantic suspense series. This exciting tale between a doctor and an ex-soldier takes place in Afghanistan, a land that is as harsh as it is beautiful. Join Kaden and Azita as they race against time to right a horrible wrong, evade the villain, and, of course, fall in love. Hey, I did say it was romantic suspense!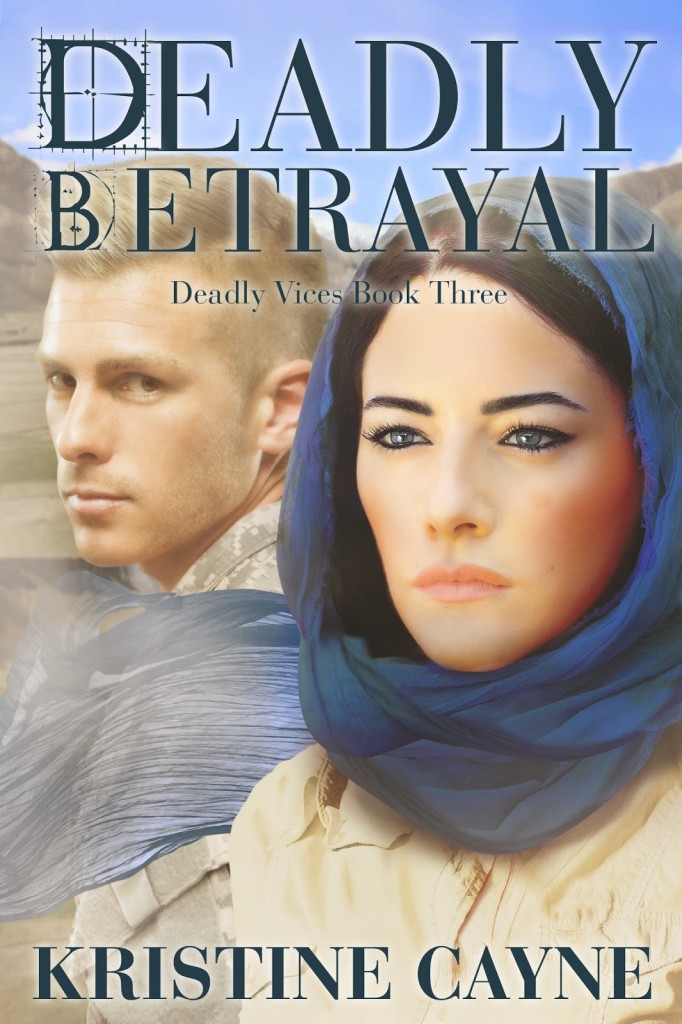 DEADLY BETRAYAL (Deadly Vices, Book Three)
By
An Afghan woman's rights activist with a dark secret.
Azita Seraj, doctor and women's rights activist in Afghanistan, is horrified to learn that her late husband's brother, Khalid Mullazai, is giving his eleven-year-old niece to a militant warlord. Desperate to save the girl, she reaches out to the only hope she has: an American soldier she treated several years earlier for a near-fatal gunshot wound. A wound he received in an ambush she'd unwittingly initiated. Can she enlist his aid and still keep secret her betrayal?
An American soldier searching for answers.
Kaden Christiansen never forgot the beautiful Afghan doctor who saved his life, and when he receives her cry for help, he doesn't hesitate. He relishes the opportunity to see Azita again, and being in-country will give him a chance to hunt down the person responsible for the ambush that left one of his men dead.
A deadly conspiracy that threatens them both…
Pursued by Mullazai and the warlord's fighters as they travel across the country disguised and posing as a married couple, Kaden and Azita begin to fall for their own act and for each other. But Kaden senses that Azita is holding back. Is the reason their cultural differences, or something darker?
Other Books in the Deadly Vices Series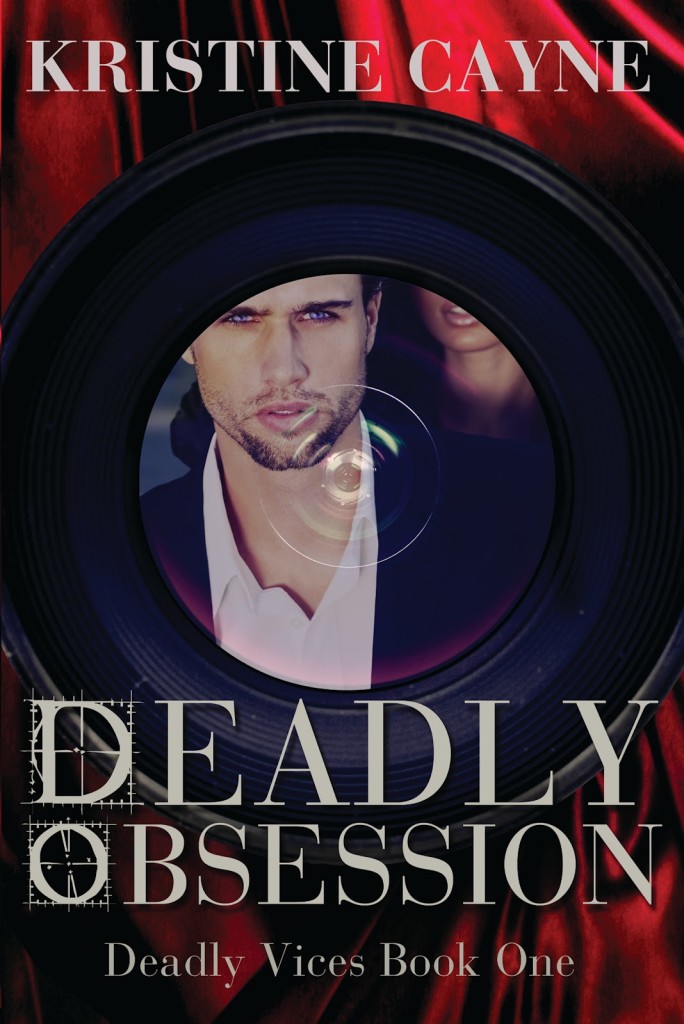 DEADLY OBSESSION (Deadly Vices, Book One) – 4.4 stars on 108 reviews
RT Book Reviews Top Pick – "Stock up on ice cubes because this is definitely one sizzling debut. Readers will be hooked from the first sentence- on the book and on Nic! As rich as a white chocolate cheesecake, Cayne's entrance into the suspense genre is invigorating, explosive and simply intoxicating."
Winner – Best Villain – 2013 eFestival of Words Best of the Independent eBook Awards
Winner – Best Romance – 2012 eFestival of Words Best of the Independent eBook Awards
Finalist – Best Romance – Kindle Book Review's Best Indie Books of 2012
Finalist – Best Suspense/Thriller – 2012 RONE (Reward of Novel Excellence) Awards
Finalist – Best Romantic Suspense – 2011 Rose City Romance Writers Golden Rose Contest
Nominee – Best First Book – 2013 Indie Romance Convention – Readers Choice Awards
Nominee – Best Villain – 2013 eFestival of Words Best of the Independent eBook Awards
When an Oscar-winning movie star meets a department-store photographer…
Movie star Nic Lamoureux appears to have a playboy's perfect life. But it's a part he plays, an act designed to conceal a dark secret he carries on his shoulders. His empty days and nights are a meaningless blur until he meets the woman who fulfills all his dreams. She and her son are the family he's always wanted–if she can forgive a horrible mistake from his past.
A Hollywood dream…
Lauren James, a widowed single mother, earns barely enough money to support herself and her son. When she wins a photography contest and meets Nic, the man who stars in all her fantasies, her dreams, both professional and personal, are on the verge of becoming real. The attraction between Lauren and Nic is instant–and mutual. Their chemistry burns out of control during a photo shoot that could put Lauren on the fast track to a lucrative career.
Becomes a Hollywood nightmare
But an ill-advised kiss makes front-page news, and the lurid headlines threaten everything Nic and Lauren have hoped for. Before they know what's happening, their relationship is further rocked by an obsessed and cunning stalker who'll stop at nothing–not even murder–to have Nic to herself. When Nic falls for Lauren, the stalker zeroes in on her as the competition.
And the competition must be eliminated.

Amazon US: http://amzn.to/Vu68Nn; Amazon UK: http://amzn.to/1aZp1UX; Nook: http://bit.ly/1eme0xe; Kobo: http://bit.ly/XpYs0R; Apple iTunes: http://bit.ly/MVe5gh; ARe: http://bit.ly/TdgzmJ; Smashwords: http://bit.ly/JwCb8f
Amazon Print: http://bit.ly/Ot8EQJ
DEADLY ADDICTION (Deadly Vices, Book Two) – 4.8 stars on 39 reviews
Winner – 1st place in the INDIE Awards, Romantic Suspense Category (a division of Chanticleer Book Reviews Blue Ribbon Writing Contests)
Finalist – Best Villain, Best Hero/Heroine, The Harvey Award for the Book We Most Want to See Made into a Movie
– 2014 eFestival of Words Best of the Independent Books Awards
Nominee – Best Suspense/Thriller – 2012 RONE (Reward of Novel Excellence) Awards
A violent clash of cultures and nations tests the forbidden love between a Native American man and a white female cop.
When beautiful police sergeant Alyssa Morgan enters his life, Rémi Whitedeer never expects her to upend it. Not only does she have his hormones in an uproar, she's also threatening to take the position he wants–Chief of Police for the Iroquois Blackriver Reservation. But Alyssa is more than a Barbie cop. Her ends-justifies-the-means philosophy, so different from his own, challenges Rémi on every level. With her sharp investigative skills and her fearlessness, she leads Rémi to confront bitter truths about his family and his standing as a man of mixed race within his tribe.
Tall hunky Rémi Whitedeer, of the panty-melting grin and the smoldering green eyes, flips Alyssa's world ass over teakettle. She's always had a laser-like focus on the job, but Rémi proves a constant distraction. His inner strength and sense of purpose strip away the winner-take-all attitude Alyssa wears like armor. Soon she's longing for more–a more that terrifies and intrigues her. If he finds out the fine line she'd walked while undercover, will he still want her? And will she ever find the courage to let him–or anyone–that far in?
When Alyssa and Rémi uncover a drug-fueled scheme involving a biker gang from Alyssa's past and a militant sovereigntist group led by Rémi's cousin, they are forced to choose between their growing love for each other and the lives they've worked so hard to build. Will Rémi and Alyssa have to leave everything behind–even their identities–for the chance of a future together?
Amazon US: http://amzn.to/U5i7zJ; Amazon UK: http://amzn.to/1cWS7y8; B&N/Nook: http://bit.ly/M0PNMI; iTunes/Apple: http://bit.ly/1nsfOHj; Kobo: http://bit.ly/YYLEkz; ARe: http://bit.ly/SfvD3Z; Smashwords: http://bit.ly/JwCb8f
Amazon Print: http://amzn.to/1n0iWIt
Deadly Betrayal Release Day Blitz and Blog Tour
Today, July 21st as well as tomorrow, July 22nd, a bunch of fabulous bloggers are participating n a release Day Blitz for Deadly Betrayal. I can't think them enough for helping to spread the word and bring my story to their readers. If you see such a post, please like it or share it. It will me a lot to me and the blogger.
Also, starting July 28th, Deadly Betrayal will be on tour! I hope you'll join me and visit the wonderful bloggers who are participating. There will be lots of fun prizes, including books, donated by some terrific author friends, and various gift cards.
I'd like to thank Nanee at Up All Day Read All Night Book Reviews and Promotion for all the hard work she's put into both these events!
Deadly Betrayal Facebook Release Party
Two lovely ladies from my street squad are organizing a Facebook release party for Deadly Betrayal. We are going to have it on Thursday July 24th. It's going to be all all-day bash with guest authors and great prizes. I hope you'll join us!
Join the even here: https://www.facebook.com/events/708340485900343
Join the Street Squad
Do you love my books and are eager to share them with your friends? You might be a good candidate for my Street Squad. We're a lively group who discuss the books and post about them on social media. We also have opportunities to win swag, books, and special squad-only treats!
If you have time and enthusiasm for my books, then we'd like to have you! Sign up here: www.kristinecayne.com
New Releases List
Do you want to know when my new releases are coming out? If so join my New Releases List by clicking this link: www.kristinecayne.com. I promise you won't be bombarded. 🙂
Thank you so much. I hope you enjoy Kaden and Azita's story!
~Kristine