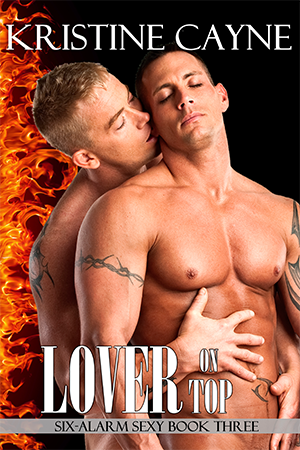 Lover on Top
Six-Alarm Sexy Book Three
Description
A straight firefighter discovers an irresistible attraction for his best friend's younger brother—one that could lead to complete disaster.
A perpetual bachelor, firefighter lieutenant Hollywood Wright hops from one woman's bed to another, searching for something he never finds. Has his father's emotional and physical abuse somehow damaged him? Or is something else going on, something that involves the intense and uncomfortable feelings aroused by his best friend's little brother?
Sexy-as-sin paramedic Chad Caldwell has always been out and proud. Sure, some gay-bashers are harassing him, but he's determined to be true to himself. There's just one problem: he's hung up on Hollywood, his older brother's straight best friend. When Hollywood's apartment is damaged by fire, Chad reluctantly takes him in. Will Chad's heart survive such close proximity to a man who's both unattainable and everything Chad wants?
To their mutual surprise, Hollywood finds Chad and his world fascinating—and much hotter than anything he's ever experienced. But with a rabidly homophobic father, is Hollywood doomed to die in the closet? Chad won't accept anything less than a public relationship, no matter how amazing the sex is. Can Hollywood ever accept the man he has always kept
eBooks
Print Books
Signed