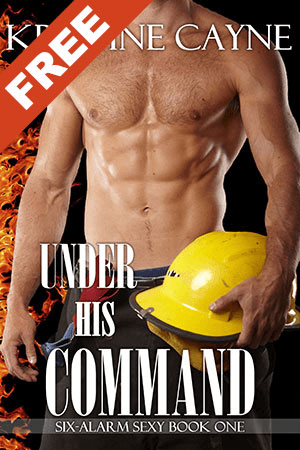 DOWNLOAD IT FOR FREE TODAY!
Amazon US | Amazon UK | Amazon CA | Nook | iBooks | Google Play | Kobo
Do you love sexy firefighters? Now you can get UNDER HIS COMMAND (Six-Alarm Sexy, Book One) for FREE!
A firefighter desperate to save his failing marriage earns the trust—and the sexual submission—of his controlling wife in the most pleasurable of ways.
After an explosive one-night stand results in pregnancy, Jamie Caldwell is thrilled to marry the perfect foil to his Dom side. But when his submissive wife starts cringing every time he gives a command, Jamie shackles his dark desires. A bout of rough, frenzied reunion sex makes him wonder if now he should free the Dom he's kept in chains and teach Erica the joys of submission and sexual surrender.
Erica Caldwell secretly loved every sinful thing Jamie did to her on their first night together. However, terrified she'll become a codependent doormat like her mother, she repeatedly rejects Jamie's dominance, despite craving the kind of release only he can give her—the release that comes from yielding to Jamie's every demand.
Hoping that the trust required by BDSM will help them rebuild their faith in each other, Jamie and Erica embark on a journey of sexual exploration. But is it too late to repair their crumbling marriage?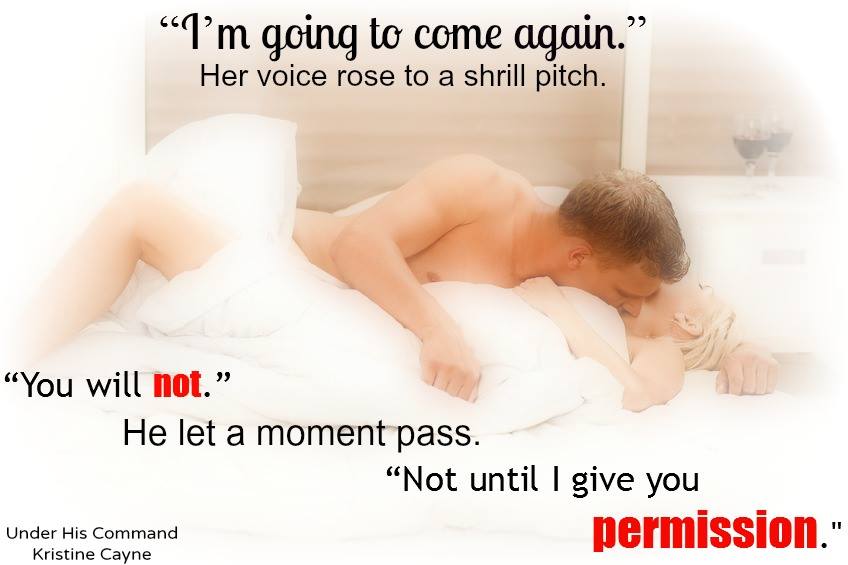 Excerpt
Something soft and cool slid over her eyes. "What's this?" she asked, reaching for it.
"Shh… It's just a blindfold. To heighten your senses."
Like she needed her senses heightened? He'd already taken her places she'd never been. "I'm not sure about—"
His hand smacking her butt cheek completely derailed her train of thought. "Did you just slap me?"
"That was a spank. Now turn around." He tied the scarf over her eyes, plunging her into darkness.
She really should resist, tell him to stop. Something. But she didn't. "Okay. Why should I let you spank me?" she asked. So far this night had been like nothing she'd expected. Jamie was skilled and unpredictable. And she was genuinely curious.
"Because you love it." His fingers trailed down the crease between her cheeks and dipped into her. Her body convulsed, pushing against his hand to take more of him. What was it about fingers that felt so darned good?
Another smack, this one a little harder, had her trembling. "See how wet you are? How good it feels?" he said.
He was so right.
Interested in one more freebie? AFTERSHOCKS, the prequel to the Six-Alarm Sexy series is also FREE!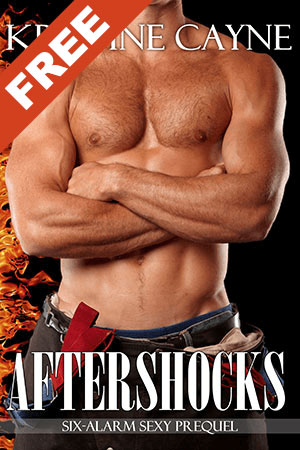 Amazon US | Amazon UK | Amazon CA | Nook | iBooks | Google Play | Kobo
With divorce papers on the table, technical rescue firefighter Jamie Caldwell must decide whether to sign them or fight for his marriage. Despite their less-than-perfect love story, he still wants his wife and the family they've created together, but how can he save his marriage when everything he's done isn't good enough?
Erica Caldwell has loved Jamie since the day they met and hates that their family is being torn apart. She's tried to fix things. But how can a marriage work when two people are unable to communicate? When their mutual trust has been eroded by years of unspoken desires and pent-up frustrations?
A devastating earthquake puts Jamie and Erica to the test when she and their daughter are trapped in the wreckage of a collapsed building. Jamie has defied the odds hundreds of times during hundreds of rescues, but he's never faced the loss of his family. Will his luck hold, or will he never hold Erica in his arms again?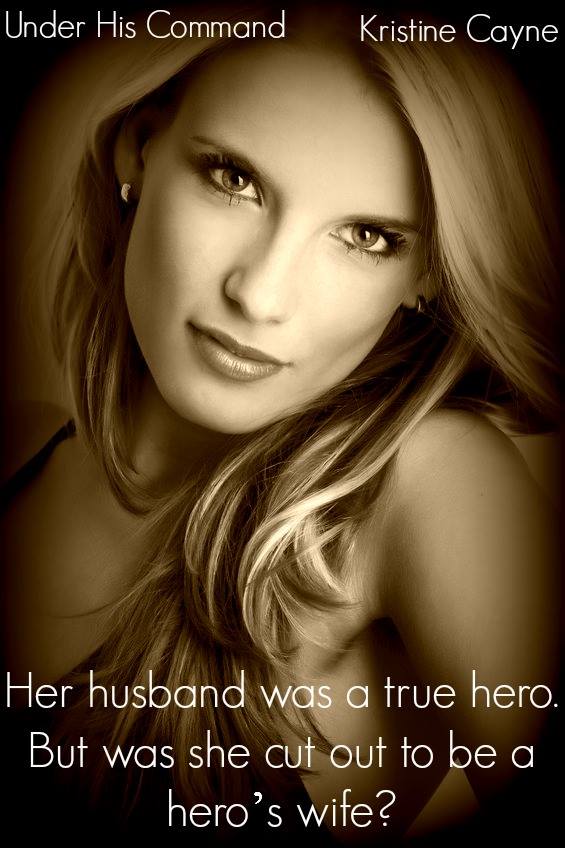 EXCERPT
Adrenaline surging through her system, Erica hung onto the doorjamb as the quake rocked the old courthouse. The building swayed and groaned, windows rattled and shattered as the earth continued to tremble. Cracks raced across the ceiling and plaster dust showered down, covering everything in a thin white film. She'd lived in Seattle all her life but had never experienced a quake as powerful as this one.
And her daughter was all alone.
Erica thrust herself through the open door to her office and back into the hall. Her arms outstretched on either side, she bounced from one wall to the other like a Ping-Pong ball. But at least she was moving in the right direction. Crashes and bangs drew her down the corridor to where most of the offices were located, as well as the large lunchroom. Dear God. Had Chloe gone to check out the offerings in the vending machines?
When she reached the older part of the building and saw the full extent of the damage, Erica's heart shuddered like the courthouse itself. This entire section of the floor looked like a war zone. "Chloe!" she called, her chest contracting so tightly her voice came out a mere squeak. She filled her lungs with the dust-choked air and tried again. "Chloe, where are you?"
Tears burned her eyes and a sob constricted her throat. Chloe was by herself. Alone. Her little girl needed her. And she needed her little girl. Needed to know she was safe.
The shaking finally stopped.
"Thank God." Blinking to clear her vision, Erica picked her way around fallen walls, ceiling tiles, and light fixtures, avoiding bits of sharp metal and live wires that sizzled like rattlesnakes. "Chloe! Can you hear me? Don't move. Don't touch anything. Mommy's coming." She could only pray that Chloe was somewhere safe and not trapped under all the rubble. Or worse.
OTHER BOOKS IN THE SIX-ALARM SEXY SERIES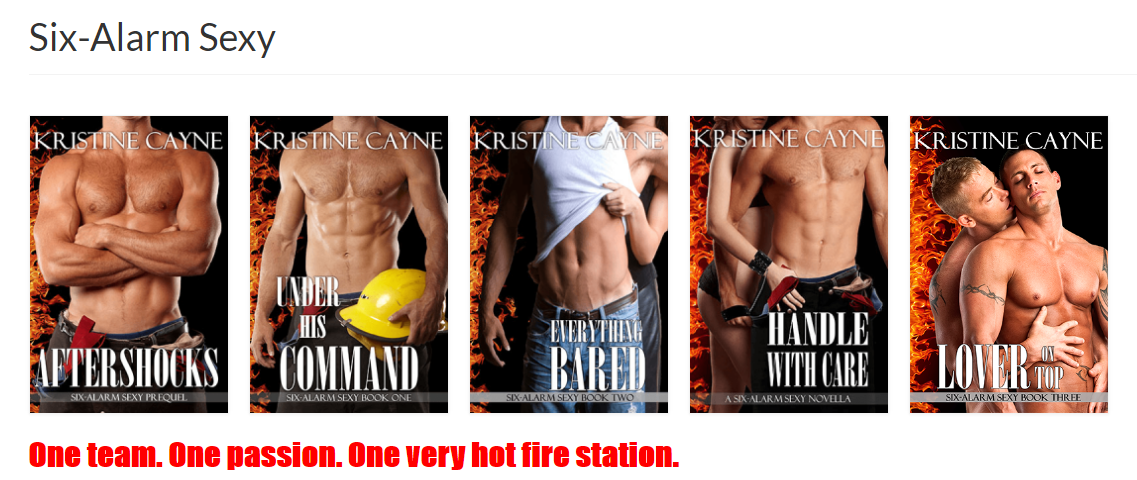 I hope you all take advantage of this opportunity to start the Six-Alarm Sexy series on me. If you enjoy the books, please be sure to let me know!
Oh, and please take a moment to share this post. You can click on one of the easy share links below.
Happy reading!